COINBASE REVIEW
All About COINBASE
Founded in June 2012 by Brian Armstrong and Fred Ehrsam, Coinbase is a secure and reliable online platform which allows users to buy, sell, transfer and store digital currencies. It was created to be the foremost brand through which people can convert digital currencies into and from their local currencies while creating an open global financial system. By January 2015, it launched the Coinbase Exchange – a professional Bitcoin traders exchange based in the US after receiving a $75 million investment from Draper Fisher Jurvetson, the NYSE, and several banks. Eventually, it began offering services in Canada and the UK. In May 2016, Coinbase rebranded its exchange changing the name from Coinbase Exchange to Global Digital Asset Exchange (GDAX) and started trading Ether on its professional trading platform. From thereon, Coinbase added other digital currencies to its trading platform.
Today, Coinbase's GDAX trades a number of different digital currencies on asset trading platform in addition to its retail exchange where Bitcoin, Ether, and Litecoin can be exchanged for fiat currency. In addition to the GDAX, it also offers an Application Program Interface (API) which can be used by developers to build applications and by merchants to accept digital currency payments. Its mobile wallet is currently used and available in over 190 countries globally and it currently boasts of buy/sell trading functionality in 32 countries. Some of the major features of Coinbase are discussed below.
Is Coinbase Regulated? Coinbase Regulation
[from the Coinbase website] Yes. Coinbase complies with all applicable laws and regulations in each jurisdiction in which it operates.
United States  
Coinbase, Inc., the company which operates Coinbase and GDAX in the U.S., is licensed to engage in money transmission in most U.S. jurisdictions. Most of Coinbase's money transmission licenses cover US Dollar Wallets and transfers. In some states, money transmission licenses also cover digital currency wallets and transfers on the platform. In other states, no money transmission license is required to operate a digital currency business
Coinbase is also registered as a Money Services Business with FinCEN.
Coinbase is required to comply with many financial services and consumer protection laws, including:
The Bank Secrecy Act, which requires Coinbase to verify customer identities, maintain records of currency transactions for up to 5 years, and report certain transactions.
The USA Patriot Act, which requires Coinbase to designate a compliance officer to ensure compliance with all applicable laws, create procedures and controls to ensure compliance, conduct training, and periodically review the compliance program.
Most states' money transmission laws and corresponding regulations. 
International  
Currently, no license is required to operate a digital currency business in any other country where Coinbase operates.
Coinbase Security
One of the advantages of using Coinbase lies in its security protocols. Coinbase values the security of their clients' funds and personal information. This explains why when a client signs up or creates an account, all personal and sensitive data which is normally stored on their servers is stored offline. As a result, such information is not prone to cyber or internet threats.
Also, as an added security measure, data is split, encrypted with AES-256 and then saved in FIPS-140 USB drives and as paper backups which are then distributed to safety boxes and vaults in different parts of the world. They also employ a two-step verification process meaning that in addition to the client's username and password, the client has to enter a security code sent to his/her phone. All these guarantee the security of funds and information.
Coinbase Mobile Wallet Services
With Coinbase's Mobile Wallet, clients are guaranteed an amazing experience whether on their Android or iOS mobile devices. This mobile wallet allows users to shop using Bitcoin and other cryptocurrencies from merchants who accept cryptocurrencies as forms of payment. Also, users can send and receive Bitcoin instantly. Also, it allows you to access all your Coinbase accounts and vaults at any time with the option of buying Bitcoin using your phone via your bank account.
Coinbase also gives you the chance to instantly exchange your digital currency into local currency by using your fiat wallet which now is able to automatically convert digital currency.
Coinbase Insurance Protection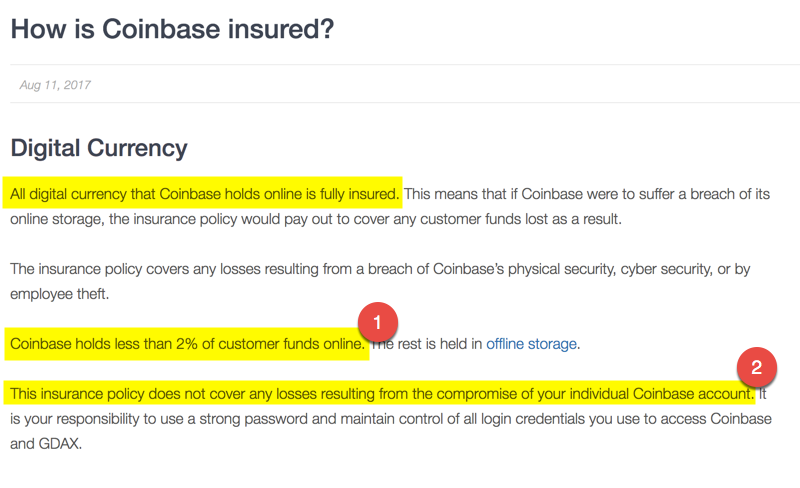 As an added advantage, all digital currency stored using Coinbase are insured which means that should Coinbase suffer a breach – relating to cyber security, physical security and employee theft – which leads to loss of funds, the insurance policy would cover the loss. However, this policy does not cover loss related to compromise of individual accounts. It is, therefore, the responsibility of the individual to use a strong password and keep all login details secure.
In addition to the above features, Coinbase's easy and user-friendly interface makes the purchase of Bitcoin by novices as easy and stress-free as possible. Cryptocurrencies can be purchased and paid for using credit/debit cards and/or bank transfer. All currency deposits into Coinbase accounts are free. However, the payment method, fees and the possibility of instant buy depends on your country. For example, Coinbase charges a fee of 1.49% per purchase for bank transfers and SEPA transfers in the US and Europe respectively. Also, all Bitcoin purchased via credit/debit card are instantly credited.
Also, the liquidity limits offered by Coinbase are very high and depends on the client's account level, which is generally determined by the amount of information which has been verified. U.S. and European clients with full verification are able to buy up to $50,000 and €30,000 worth of Bitcoin per day. Coinbase, however, required that users provide and verify their identities and personal details before they can use the platform. Purchases with credit cards require that clients take a picture of their passport or driver's license for verification
The advantages of using Coinbase are numerous and limitless, and cannot be covered in just a single article. That notwithstanding, it is safe to say that Coinbase is an amazing platform for users of crypto currencies as it provides a means perform transactions anywhere, anytime and from any device.
---
Must Read: Best Websites To Buy and Sell Cryptocurrencies
Buy Cryptocurrency Safely With Credit Card
Verify your account and start Buying Bitcoins instantly. Purchasing Bitcoins has never been so quick and hassle free! Purchase Bitcoins today with your credit/debit card!
Bitcoin Exchange
Buy and sell Bitcoins for USD or EUR with payment cards or via bank transfers easily. Get into Bitcoin Trading on the worldwide Bitcoin Exchange.
Buy bitcoin instantly
Easy to use P2P Bitcoin buying site, where anyone in the world can trade fiat for Bitcoin or viceversa.
---
Most Popular Coinbase Related Videos From Youtube
How To Buy Bitcoin on Coinbase
How To Stop Paying Coinbase Fees
The NUMBER ONE Reason I WON'T Use Coinbase
Beware of coinbase frozen funds!
Don't use Coinbase, use GDAX instead to ELIMINATE FEES! The difference between Coinbase & GDAX
Coinbase App Review – Coinbase Bitcoin Wallet
Coinbase Tutorial Exchange Review Wallet with Sean Logan